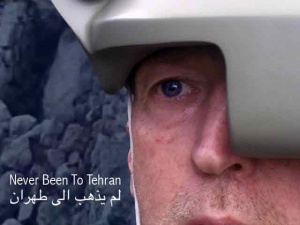 Imagine a city that you've only seen in reproductions or perhaps have merely heard about. A place, like many others, that only exists for you through indirect sources–the nightly news, hearsay, literature, magazines, movies, and the Internet. Using these secondhand clues as firsthand research materials, invited worldwide contributors–who have Never Been to Tehran–will take photographs (from their home base) of what they imagine Tehran to look like. Contributors will upload their photos daily to an on-line photosharing site, which will be projected as a slideshow simultaneously in galleries and public spaces around the world (including Tehran). Anything that anyone might take a photograph of is fair game, just as long as it feels like Tehran.
For the international contributors to this exhibition, the task is to search through their daily lives for clues to a foreign place, for the possibility that somewhere else exists right under their noses and that, like some clunky form of astral projection, one can travel to other lands without leaving home. New information technologies are expanding the possibility of knowing a place to which you've never traveled. Hosts of amateur and commercial websites and podcasts about a given city, its economy, demographics, culture and subculture have opened the way for a new vernacular of representation. As Tehran's image is currently being foreshortened in the dominant media, it is a compelling challenge for the participants in this exhibition to sift through the glut of images and information to cull out a personally constructed version of an unfamiliar place. For viewers in Tehran, the exhibition presents a chance to witness an unusual mirroring of their globally projected image, taken from the daily lives and environs of outsiders.
Collectively, the artists and viewers of Never Been to Tehran will be charting a liminal space stuck somewhere between here and there that in our contemporary existence just might be home.

Full project at –
http://www.neverbeentotehran.com/
Method.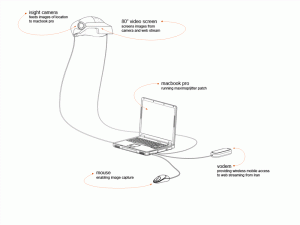 Each pairing of images were shot simultaneously via a custom built helmet. The helmet houses a small video screen that brodcast realtime web casts of Iranian television to the left eye while a camera mounted over the right eye records the current location. The web casts are streamed to a laptop via a vodem (www.vodafone.co.nz) which provides web access via the cellular newtork. The wearer sees the current loaction through their right eye with the streamed image superimposed over it. The two sites are brought together in the same instant and captured as still images when visual resonances are observed.